VRS Introduces TacPack®/Superbug™ v1.6!
Upgrades Now Available for P3D v4 Customers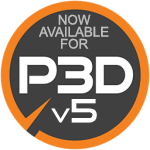 TacPack® and Superbug™ support is now available for Prepar3D® v5 covering v5.0.31.35253 through v5.3.17.28160. The move from P3D v4 (DX11) to v5 (DX12) was a tough one. As many of you already know, the TacPack uses a number of hooks in order to provide its magic. These hooks are very sensitive, need to be done in assembly, and break if the executable changes in any way (e.g. 5.2 to 5.3). In addition, and constituting the bulk of the work, DX12 support for TacPack features like FLIR, A/G Radar, and full screen NVG needed to be completely re-written. In other words, this was no ordinary patch, and for those reasons and more, we unfortunately cannot offer TacPack P3D v5 support for free. The good news is we are offering free Superbug updates to v1.6 (for p3D v4 AND v5) provided your current Superbug v4 license is under maintenance. TacPack upgrades from v4 to v5 are $29.90 (reg $59.95). All license updates and upgrades to 1.6 require that the license being upgraded is under active maintenance.
The TacPack basic functions currently remain pretty much the same as they were in v4 with the exception of new support for dynamic lighting and a slew of much improved effects. However coming soon will be Aggressor AI that can perform a number of functions including BVR engagements, dog fighting, and wingman tasks. the AI will be scriptable via .tps files so that they can be programmed to appear and perfom actions in a repeatable way. The 1.6 Superbug has added dynamic lighting effects for both the VC and external models. Both products now feature remote installation management which allows end-users to deactivate installations (freeing up activation keys) without any intervention required from VRS. Yay! For a complete list of changes, please see the Superbug version History and TacPack Version History.
For more details, please see the affe Announcements topic in our support forums. If you have any questions related to upgrading or new purcahses, please create a new topic under the appropriate sub-forum.
VRS Rhino for P3D now Preordering!
Coming soon for P3D v4+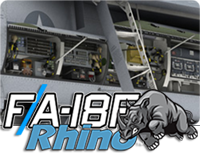 VRS F/A-18F Rhino is the culmination of many years of research, modeling, texturing and state of the art developmental techniques. This is a 2-seat variant of the Super Hornet with selectable rear-seat configurations for trainer and RIO stations. Rhino is destined to be our finest work yet and will feature meticulously crafted PBR materials throughout.
Rhino requires TacPack for P3D v4+. Please read system specs carefully before purchase.
---
Introducing SuperScript!
For TacPack-Powered VRS F/A-18E Superbug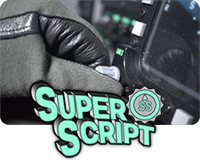 VRS SuperScript is a comprehensive set of Lua modules for FSUIPC (payware versions) for interfacing hardware with the VRS TacPack-Powered F/A-18E Superbug. This suite is designed to assist everyone from desktop simulator enthusiasts with HOTAS setups, to full cockpit builders who wish to build complex hardware systems including physical switches, knobs, levers and lights. Command the aircraft using real hardware instead of mouse clicking the virtual cockpit!
SuperScript requires FSUIPC (payware), TacPack & Superbug for P3D/FSX. Please read system specs carefully before purchase.
---
Featured TacPack-Powered Products
Products leveraging TacPack SDK to bring true combat systems to life in FSX/P3D!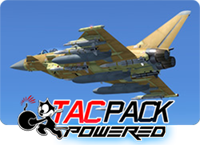 The following featured products all work with VRS TacPack and offer high-quality combat systems on what would otherwise be benign aircraft with no true combat capability. These products are integrated with the TacPack SDK from the ground-up by their respective developers. These products may all be flown in multiplayer along side other TacPack-Powered aircraft for a true virtual battlefield experience! Look for the VRS TacPack-Powered logo on your next aircraft purchase, and you can be sure it will be a product that brings all that much more fun and excitement to your next flying session! For a complete list of all TacPack-Powered or TacPack-related products, please see the TacPack product page.
Note that while many of these products may work without the TacPack to a certain extent, some may in fact require the TacPack in order to work at all. Please read all system specifications carefully prior to purchase.
---
For a complete list of other great TacPack-Powered add-ons, or find out more about how TacPack can transform your Flight Simulator experience, please visit the TacPack product page.