VRS Introduces TacPack®/Superbug™ v1.7!
Upgrades Available for TacPack P3D v1-5 Licenses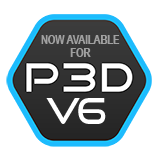 TacPack® and Superbug™ support is now available for Prepar3D® v6 covering v6.0.26.30799 through v6.0.36.31031 (HF6).
While the TacPack v1.7 update is primarily focused on obtaining support for P3D v6, other changes include TPM performance and visual upgrades as well as the removal of the legacy requirement for DX9c dependencies.
TacPack and Superbug v1.7 is now available for anyone currently running P3D v4 through v5. v1.7 supports all 64-bit versions of P3D including v6. If you are currenrtly running v4 or v5 TacPack licenses, you may upgrade to a v6 license at up to 50% off the new license price regardless of maintenance status on the previous license. Any existing maintenance remaining on the previous license will be carried over to the new license.
Customers who wish to continue using TacPack for P3D 4/5 may still obtain the 1.7 update from the Customer Portal as usual, provided your maintenance is in good standing. If not, maintenance renewals may be purcahsed from the customer portal under license details.
For additional details, please see the Announcements topic in our support forums. If you have any questions related to upgrading or new purchases, please create a topic under an appropriate support sub-forum.
Introducing SuperScript!
For TacPack-Powered VRS F/A-18E Superbug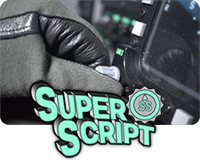 VRS SuperScript is a comprehensive set of Lua modules for FSUIPC (payware versions) for interfacing hardware with the VRS TacPack-Powered F/A-18E Superbug. This suite is designed to assist everyone from desktop simulator enthusiasts with HOTAS setups, to full cockpit builders who wish to build complex hardware systems including physical switches, knobs, levers and lights. Command the aircraft using real hardware instead of mouse clicking the virtual cockpit!
SuperScript requires FSUIPC (payware), TacPack & Superbug for P3D/FSX. Please read system specs carefully before purchase.
---
Featured TacPack-Powered Products
Products leveraging TacPack SDK to bring true combat systems to life in FSX/P3D!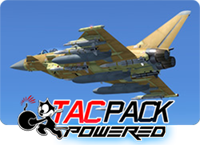 The following featured products all work with VRS TacPack and offer high-quality combat systems on what would otherwise be benign aircraft with no true combat capability. These products are integrated with the TacPack SDK from the ground-up by their respective developers. These products may all be flown in multiplayer along side other TacPack-Powered aircraft for a true virtual battlefield experience! Look for the VRS TacPack-Powered logo on your next aircraft purchase, and you can be sure it will be a product that brings all that much more fun and excitement to your next flying session! For a complete list of all TacPack-Powered or TacPack-related products, please see the TacPack product page.
Note that while many of these products may work without the TacPack to a certain extent, some may in fact require the TacPack in order to work at all. Please read all system specifications carefully prior to purchase.
---
For a complete list of other great TacPack-Powered add-ons, or find out more about how TacPack can transform your Flight Simulator experience, please visit the TacPack product page.